1 He who dwells in the secret place of the Most High Shall abide under the shadow of the Almighty. 2 I will say of the Lord, "He is my refuge and my fortress; My God, in Him I will trust." 3 Surely He shall deliver you from the snare of the fowler And from the perilous pestilence. 4 He shall cover you with His feathers, And under His wings you shall take refuge; His truth shall be your shield and buckler. 5 You shall not be afraid of the terror by night, Nor of the arrow that flies by day, 6 Nor of the pestilence that walks in darkness, Nor of the destruction that lays waste at noonday. 7 A thousand may fall at your side, And ten thousand at your right hand; But it shall not come near you. 8 Only with your eyes shall you look, And see the reward of the wicked. 9 Because you have made the Lord, who is my refuge, Even the Most High, your dwelling place, 10 No evil shall befall you, Nor shall any plague come near your dwelling; 11 For He shall give His angels charge over you, To keep you in all your ways. 12 In their hands they shall bear you up, Lest you dash your foot against a stone. 13 You shall tread upon the lion and the cobra, The young lion and the serpent you shall trample underfoot. 14 "Because he has set his love upon Me, therefore I will deliver him; I will set him on high, because he has known My name. 15 He shall call upon Me, and I will answer him; I will be with him in trouble; I will deliver him and honor him. 16 With long life I will satisfy him, And show him My salvation."
Sunday: Worship Service 9:30 am. Sunday School 11:00 am.
Wednesday:
Bible Study 6:30 pm.
Youth Programs 6:30 pm.
Our mission at Gilboa Baptist Church is to reach, teach, and minister in the name of Jesus Christ by leading people to Him and membership into His family. We desire to encouraging their spiritual growth and development through the knowledge and application of God's word, empowering them for their ministry in the church and life in the world, in order to magnify God's name.
Our Purpose
The purpose of the church is summed up in the commission Christ gave His disciples just before He ascended to Heaven:
"And Jesus came and spake unto them, saying, All power is given unto me in heaven and in earth. Go ye therefore, and teach all nations, baptizing them in the name of the Father, and of the Son, and of the Holy Ghost: Teaching them to observe all things whatsoever I have commanded you: and, lo, I am with you alway, even unto the end of the world. Amen" (Matthew 28:18–20).
This last command of Christ should be our highest priority; every facet of church activity should in some way relate to this, the purpose of the church. Acts 5:42 records that the Jerusalem church was indeed fulfilling this purpose: "And daily in the temple, and in every house, they ceased not to teach and preach Jesus Christ."
This young church was constantly engaged in making the Gospel known to the world.
At Gilboa Baptist Church, we have emphasized this purpose in these three points:
Loving God
Loving God begins in the heart, with a personal relationship with Him. As we gather and participate in Christ-honoring worship services and respond to the preaching of God's Word, this love flourishes. Mark 12:30 says,
"And thou shalt love the Lord thy God with all thy heart, and with all thy soul, and with all thy mind, and with all thy strength: this is the first commandment."
Growing Together
We grow together, in Christ, through the study of God's Word. This occurs in our weekly services, in our Sunday school classes, and in one-on-one discipleship.
Serving Others
We serve others as we find a place of ministry in the local body. We also serve by sharing the Gospel with those who need the Lord—through witnessing to friends, coworkers, neighbors, and loved ones, as well as in participating in church outreach and giving to missions.
As a church, our mission is to reach the world with the Gospel of Christ. We want to utilize every available biblical means, and we want to disciple and train every member to participate in accomplishing our church's purpose.
Our Church recognizes the authority of God and the infalible Word of God given to us in the Holy Bible.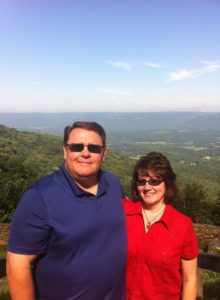 Pastor Larry & Denise Greathouse
On behalf of myself and the congregation of Gilboa Baptist Church welcome to our church website. We at Gliboa Bapitst Chruch affirm the power of the Holy Spirit to remold and shape the lives of individuals who have been touched by God's Holy Spirit.
It is our joyful expectation and prayer that as you browse through our website that you will be changed, encouraged, helped and led to a deeply satisfying relationship with Jesus Christ.
Our mission at Gilboa is to lead people to Jesus and membership into his family, encouraging their spiritual growth and development through the knowledge and application of God's word.
May God richly bless and keep you.